Hey loves!
My prom season is over! Whew!
While others are just getting started, I've wrapped it up just in time to submit this beauty in that 2018 Red Carpet Contest.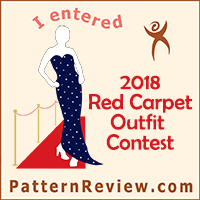 Let me just tell you this young lady was shining. She wanted her dress to sparkle and it did.
I used my TNT pattern McCall's 6886 to get started. I've found so many uses for that pattern. For the lining, I used
Superflex Compression Performance Fabric-Black
from JoAnn Fabrics. Yes, compression fabric! She didn't want to have to wear support garments. Do you blame her?! The compression fabric gives her support and keeps her dry so she can enjoy dancing all night! Winning!
Although it was gorgeous, it wasn't what she envisioned. It's for sale. Contact me for pricing and yardage.
I think she looked radiant!
She who leaves a trail of glitter will never be forgotten.
If you'd like to know more about how I made this dress, check out
my review
on patternreview.com.
Until next time, SMOOCHES!
DJ